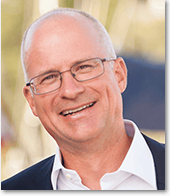 Jay C. Leon represents investor syndicates in their pursuit of multifamily properties in the Puget Sound region. Borrowing from his background in data heavy decision support systems, as well as M & A transactions in the technology industry, Jay takes an analytical approach to identifying, analyzing and acquiring properties intended as long term stable investments.

Jay C. Leon was the founder and CEO of CSG Channels in Redmond, WA, and was recognized as the leading provider of partner relationship management services and reseller lead distribution and partner channel deal registration systems for complex partner ecosystems. In addition to founding and operating CSG for 18 years, he has bought and sold four technology companies. Before starting CSG Channels, Jay spent 10 years in real estate corporate services, helping large technology companies acquire the real estate they needed for their operations. During this time Jay successfully concluded over $100 million in commercial leasing transactions on behalf of his clients.

He has served as an adviser or board member to many not for profit organizations including Emerald City Rotary, Social Venture Partners, Seattle Arts and Lectures, The Pacific Northwest Society of Alpha Delta Phi, League of Education Voters, and Summer Search.

Jay and his wife and two daughters live in Seattle, WA. He is an avid boater, reader, writer, and speaker. He is a graduate of the University of Washington with a bachelor's degree in Speech Communication.



Mr. 99 and Associates: Marty Rood | Bob Nylund | Scott Russell | Norman A. Strickland | Jay Leon