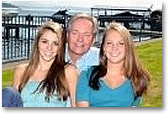 Current:
President and Designated Broker-Mr. 99 & Associates Commercial Real Estate Company

Director of Private Finance, Stonebridge Securities LLC

Chairman & Founder, DealerNet, first automobile information and buying site on Internet, March, 1994

Chairman & Founder, Instant Service.com - Sold to ATG 1/12/10 for
$17 Million - Click here for details

President, Rood Motors, Inc. and Dealer Internet Services Corporation

Director/Founder of DealerNet Operations / Reynolds + Reynolds/Microsoft's Carpoint.com

President, Rood Nissan/Volvo

President, Rood Buick/Pontiac

President, Commercial Automotive Service

President, Commercial Tire Company

President, Ajax Rent A Car of Washington

President, Ajax Park-N-Fly

Co-Founder, Newsstand.com

Co-Founder, Netstock Direct, Sharebuilder

CEO, Dealer Trade Group

Vice-Commander, USCG Auxiliary

Chief Development Officer, IP Sciences

Received Patent for "Real Time Internet Communications System" U.S. Patent and Trademark Office, Patent No. 6,915,336, July 5, 2005

Commercial Real Estate Agent, Licensed in the State of Washington

President/Broker--Mr. 99 & Associates Commercial Real Estate Company

Series 7 Securities License, NASD

Series 63 Securities License, Washington State
Martin Rood recently completed purchasing the Mr. 99 & Associates Commercial Real Estate Brokerage from John Peehl, Founder of Mr. 99 & Associates. John will continue on as Founder and will be intimately involved in the business because of his vast experience and knowledge of properties along the Hwy 99 corridor. Hwy 99 actually runs from Canada to the U.S.-Mexican border! Hwy 99 is a busy, bustling Hwy that entails every type of commerce imaginable and is the premier marketplace in the Northwest. More business occurs along Hwy 99 than any other corridor in the Northwest!
4.5 million square feet sold and 2.5 million square feet leased!
Mr. 99 & Associates is, by far, the most experienced commercial real estate team along Hwy 99. We specialize in selling and leasing commercial properties on the Highway 99 corridor from border to border of Washington State. As the most knowledgeable Brokers on the corridor, companies such as McDonald's, Schuck's, Enterprise Car Rental, American Cash Exchange, Ferrell Gas, Inc and The Southland Corporation have benefited from our services. Combining 99 years of professionalism and integrity, our staff brings an extremely high level of expertise and knowledge to the market.
You might say it's in Martin Rood's blood. Members of his family have been establishing trends in the automotive industry for three generations, spanning eight decades. Over that time, the Rood family used advancing technologies like radio and television as progressive marketing mediums to successfully promote automobile sales. His Father, Stan, for instance used the first computer technology for accounting purposes in the State of Washington for auto dealers. His Grandfather's cousin was Ole Evinrude that invented the outboard motor and Founder of OMC Corporation.
Martin Rood worked up the ranks from parts stocker to President of Rood Nissan/Volvo and has become a modern day pioneer with his development of Dealer Internet Services Corporation, selling it to Reynolds & Reynolds Corporation, and merging it with Microsoft's Carpoint.com, the largest automotive information and car-buying site in the world which currently enjoys over 3.5 million individual visitors per month.
As creator and president of D.I.S.C., Martin Rood is marketing automobiles, products and services to over 200 million people on the worldwide Internet computer system. His current project, called DealerNet featuring the Virtual Showroom™, is designed to allow anyone with a personal computer and modem to easily access a wealth of information about the automotive industry and auto dealers. The system has gained international recognition in the automotive, business, and computer communities. Carpoint.com is now in over 6 countries world-wide.
"DealerNet" is the future of the automotive industry happening now," said Rood. "My family built a successful Nissan/Volvo dealership by approaching marketing with an open mind, using modern and futuristic technologies."
Born in 1954, Martin Rood started in the family business at an early age washing cars during the summers. He wen to Ballard High School, graduated with a 4.0 G.P.A., was Captain of the Soccer and Golf Team, and graduated from the University of Washington in 1975 with a degree in Psychology and also a degree in Business Administration in 2.75 years, Mr. Rood graduated first in his class and 1.25 years earlier than scheduled.
His Lynnwood, Washington based Rood Nissan/Volvo dealership won numerous prestigious awards in the automotive community. Among the most significant: Nissan's Award of Merit in 1982, '84, '85, '88, and the Nissan Motor Corporation's President's Club Award in 1992 for the highest achievement in sales, service and customer satisfaction. His dealership also earned Volvo's Dealer of Excellence Top Award for 1993, 1994 and 1995.
Among many personal achievements, Rood was member of the Championship University of Washington Husky Soccer Team in college, was a Charter President of the Emerald City Rotary Club, was on the Arthritis Foundation Board of Directors, member of the prestigious 101 Club, and was on the Board of Trustees for the Puget Sound Blood Center.
On June 15, 1995 DealerNet was purchased from Mr. Rood by Reynolds + Reynolds Corporation for a deal worth $18 million. Reynolds & Reynolds, is a Fortune 500 company and a provider of computer and information systems for over 90% of the existing car dealerships nationwide and Canada. Reynolds + Reynolds, headquartered in Dayton, Ohio is a New York Stock Exchange registered company (NYSE symbol: REY). The marriage of these two technology companies really provides an incredible opportunity to combine Internet expertise with industry know-how as well as large unique databases that cannot be found anywhere else. DealerNet will be the focal point of the information dissemination that can be accessed by automotive industry people and consumers alike.
Rood also forged the current strategic alliance between Reynolds & Reynolds/DealerNet and Microsoft's Carpoint website. Carpoint is using the databases originally used only for DealerNet. Rood is currently on an earn-out program with Reynolds & Reynolds and Carpoint. Carpoint's revenues now top $36 million with a ROI of over 35%. It is the largest automotive resource and purchase site in the world today. Below is a sample press release regarding DealerNet:
REYNOLDS AND REYNOLDS REPORTS FOURTH CONSECUTIVE RECORD YEAR
19th Consecutive Quarter of Earnings Growth

DAYTON, Ohio, November 2, 1995 -- The Reynolds and Reynolds Company (NYSE:REY) today reported fiscal 1995 record earnings of $78.6 million or $1.85 per share compared to $66.2 million or $1.51 per share reported in fiscal 1994. Net sales and revenues rose 13 percent to $910.9 million, compared to $808.8 million a year ago. Earnings per share grew 23 percent while net income rose 19 percent.

David R. Holmes, Reynolds' chairman, president and CEO said, "All of our employees have worked hard to transform our company into a leading information management company whose passion for maximizing the business results of our customers has enabled us to achieve our fourth record year in a row. This is the 19th consecutive quarter of increased earnings," (excluding the October 1992 one-time charge for adopting SFAS 106).

"Throughout the year, our automotive businesses' performances were strong. Our forms and systems business showed significant sales and profit growth-a direct result of our fiscal 1994 restructuring of that business and a keen focus on forms management solutions for our customers. During the year, we also strengthened our healthcare systems business serving physician groups and integrated healthcare delivery networks. Backlogs across our businesses remain healthy and our cash flow continues to be strong, enabling us to invest in long-term growth strategies."

Fourth quarter operating income was $36.1 million, up 13 percent over last year's $31.8 million. Net income for the fourth quarter was $20.5 million or 48 cents per share, 13 percent ahead of last year's $18.2 million or 42 cents per share. Net sales and revenues for the fourth quarter were $242.5 million, up 16 percent from the $208.4 million in 1994.

"We achieved strong growth in sales and earnings in our core businesses. During the year we also acquired 10 businesses or products to strengthen our existing offerings. Additionally, aggressive new product introductions, bold account penetration strategies and solid competitive knockout levels put us in a position to continue our strong performance," Holmes said.

Revenues for the computer systems segment were $120.1 million for the quarter and $445.0 million for the year, compared to $102.3 million and $383.3 million last year. Operating income for the segment was $19.0 million for the quarter and $77.3 million for the year, versus $20.2 million and $72.4 million in 1994.

"Throughout the year, our ERA information management system for automobile dealers continued to build on its reputation as the finest product in the industry with strong sales and superior customer satisfaction. We established our Customer Marketing Services database marketing business with the acquisition of Service Systems Enterprises early in the year. That business is growing revenues and continuing to strengthen our total automotive offering. Our programs and systems are enabling dealerships to increase sales and profits by targeting new customers more effectively, increasing customer satisfaction, and maximizing service loyalty and retention levels. We're very happy with the results we've achieved in our computer systems segment, particularly considering the investments we continue to make in new products for our automotive and healthcare systems businesses.

"Our purchase of the DealerNet service establishes Reynolds as the primary source of automotive information on the Internet for the car-buying public. We're currently signing more dealerships as advertisers. We're also expanding the capabilities of the service, like our recent announcement of consolidated credit reports made available to consumers through DealerNet. We're creating a powerful new dimension to automotive retailing.

"Our acquisition of The Nickelsen Group early in the fourth quarter has added an important general management consulting component to our Professional Services group.

"And, our introduction of a fully integrated, electronic storage and point-of-need document management system, enhanced our information management solutions to automobile dealers."

Holmes says that Reynolds is better positioned than ever before to continue to grow its leadership position in the automotive market. "We're excited by the growth opportunities we're creating for our company, and our automotive customers are excited by the valuable solutions we're creating for them."

While the computer systems segment currently is dominated by the company's automotive systems business, Holmes believes the day will come when its healthcare systems business contributes to revenues and profits in a big way.

"Fiscal 1995 was an important year for our healthcare systems business. We invested aggressively, acquiring two companies, adding and training sales professionals, and stepping up product development efforts. Those investments did have an impact on the segment's operating income. We now have the industry's leading managed care and electronic medical records capabilities. Our strong financial position will allow us to continue to invest in our healthcare business so that we can capture the tremendous opportunities that exist in this rapidly growing market," Holmes said.

Reynolds' business forms segment reported sales of $122.4 million for the quarter and $465.9 million for the year, compared with $106.1 million and $425.5 million last year. Operating income for the segment was $17.1 million for the quarter and $59.7 million for the year, versus $11.6 million and $25.7 million a year ago.

"Our forms and systems business continues to significantly grow sales and profitability. Last year's restructuring of the business and our focus on customer needs-driven forms management services, is helping us to elevate our image as a leading information management services provider. We've established that leadership position by helping our customers drive out costs and improve efficiency, customer service levels and profitability by managing business information in ways that create competitive advantage. Top companies are coming to us for outsourcing solutions as they strive to streamline the flow of information throughout their business enterprises and capitalize on our information management skills.

"Similarly, our automotive products business has done a great job of expanding their opportunities and increasing the scope of forms solutions we offer to automobile dealers. The products we provide have expanded significantly over the past few years through acquisitions and internal development. As an example, our 1994 acquisition of Law Printing, a regional automotive forms company, has allowed us to integrate their industry-leading, unique standardized finance and insurance documents into our automotive products offering which we'll be able to provide nationally," Holmes said.

Holmes remains optimistic about the future. "We're investing in areas that will capture increased value for our customers and shareholders. By aggressively introducing new products and services and acquiring companies that strengthen our efforts in the automotive, healthcare and general business markets, we expect to continue to achieve double-digit growth in sales and earnings, with return on equity over 20 percent."

Reynolds and Reynolds is a Fortune 1000 company headquartered in Dayton, Ohio. Reynolds provides integrated information management systems and related value-added services to automotive, healthcare and general business markets.

About Instant Service
Management
Mike Lande
Carl Winge
Kevin Knoepp
Board of Directors
Martin Rood
Curt Blake
Mike Lande
Einar Langesater
Harvey Ring
Rick Salwen
Founders
Damion Hänkejh
Martin Rood
Community
Elder, 1st Presbyterian Church of Bellevue

Deacon, 1st Presbyterian Church of Bellevue

Life Boy Scout

Arthritis Foundation Board

C4W, Board Member (Computers for the World)

Charter President, Emerald City Rotary Club of Seattle

Puget Sound Blood Center Board Member

President, Ballou Haven Homeowner's Association

Expert Review Panel Member, appointed by the King County Council regarding AT&T@Home deployment.

Past Member, Norwegian Male Chorus

Recipient, Schoenfeld Scholastic Athletic Trophy, Ballard High School, 4.0 GPA

Sunday School Teacher, 1st Presbyterian Church of Bellevue

Chief, Indian Princesses, YMCA "Chinook's"

Member 101 Club

Board Member, 101 Club

Board Member, USCG Foundation

Member Norwegian Commercial Club

Member Norwegian/American Chamber of Commerce

Member National Automobile Dealer's Association

Member Washington State Automobile Dealer's Association

Founding Member, Internet Business Alliance

Member, Washington Software Alliance

Member, Founders Club, University of Washington

Past Team Member, University of Washington Soccer Team (Championship Team)

Graduated First In His Class, University of Washington, 1975 with a B.A. in Business Administration and a B.S. in Psychology.

Martin Rood has an I.Q. of 149 through the Cambridge I.Q. testing system.

Past Team Member, Mueller Baron's State Championship Soccer Team, Premier Division

Member, Washington Athletic Club

Member, Seattle Golf Club

Member, Seattle Yacht Club

Product of the Year, 2000, Technology Marketing Magazine, Instant Service's CRM Product

1992 President's Club Award, Nissan Motor Corporation

Member, Museum of Flight's "Dawn Patrol"

Member, Commercial Brokers Association

President, Mr. 99 & Associates, a Commercial Real Estate and Development Company
About Instant Service
InstantService.com, Inc. is a Seattle-based company formed in 1998 to meet the need for real-time human interaction over the Internet. Using the Application Service Provider (ASP) model, the company delivers an eCommerce solution enabling a company sales or customer service agent to start an immediate dialog with a site visitor, prospect or customer. This application, called InstantService™ live online interaction, facilitates customer acquisition and retention by enabling companies to conduct text-based chat sessions and push topical content to customers in real time. It is instrumental in helping eCommerce companies turn e-Visitors into e-Customers and realize greater revenue on each customer interaction. Mr. Rood has applied for numerous patents and, recently, one of patents has been allowed by the U.S. Patent office.
InstantService.com Vision Statement:
To enhance the efficiency, effectiveness, profitability and customer satisfaction levels on e-business sites by providing Best-of-Breed live human interaction and other eCRM technologies while building a successful and profitable company delivering an ASP based service.
Martin Rood, Chairman
Martin (Marty) Rood is co-founder of InstantService.com and currently serves as Chairman of the Board of Directors. Rood has more than 25 years of experience in business development, management and operations. He was the first to sell an automobile on the Internet and developed the first eCommerce auto site, known as DealerNet. The original DealerNet site was sold to Reynolds & Reynolds and eventually became Microsoft's CarPoint, now the most widely used automotive site on the Internet and is available in 6 different countries. Rood's focus on fast and efficient service and sales led him to view the Internet as the perfect mechanism for both communication and commerce. Rood holds a BA in Business Administration and BS in Psychology from the University of Washington.
Recent Press Releases:
December 14, 2000
Pacific WebWorks Online Customer Satisfaction Skyrockets with InstantService™ - Live Human Interaction eCRM Communication Technology
November 30, 2000
InstantService.com™ Announces Record Usage Growth To Over 1,700,000 Minutes Per Month, Adds Features And Programs
November 14, 2000
InstantService.com and InfoCast Team Up to Form a Strategic Partnership
October 31, 2000
InstantService.com and CobWeb Form Strategic Partnership for E-Commerce Websites
October 26, 2000
InstantService.com and YY Software Enter Partnership to Form Automated-Response and Human Interaction eCRM Solution - Intelligent Auto-Response Complements Live Online Human Interaction for Premiere Market-leading Customer Satisfaction ASP Solution
October 25, 2000
InstantService.com and elingo Form Strategic Partnership for E-Commerce Websites - Live Online Human Interaction Gains Multi-Language Capability to Provide a Revolutionary Premiere ASP Solution
October 24, 2000
InstantService.com Teams Up With CobWeb, elingo, Fast Focus, TouchScape, and YY Software To Offer World Class E-Commerce Solutions
October 23, 2000
InstantService.com Enters Strategic Partnership With TouchScape Corporation
October 20, 2000
Kindred Forms Strategic Partnership with InstantService.com
October 18, 2000
Peragis Selects InstantService™ as Its Online Support Services Tool
September 12, 2000
Revolutionary ASP Channel Partner Program Launched By InstantService.com™ - Program Moves Resellers From "Old" To "New" Economy
August 24, 2000
Venus Swimwear Selects InstantService™ As Their Online Customer Service Tool, Expanding Its Sister Site WinterSilks.com
August 15, 2000
Interlucent.com Joins InstantService.com™ Team of Resellers - Launching Relationship by Signing US Schools of Golf
August 2, 2000
InstantService™ and FastFocus Systems, Inc.™ Integrate to Offer Industry Leading System For Converting eVisitors to eCustomers
July 31, 2000
Comprehensive Staff Support Now Available for InstantService™
InstantService.com™ and ClientReps.com Team to Offer FullService InstantService™
July 27, 2000
InstantService.com™ Releases Upgraded Version of InstantService™, Live Customer Interaction Technology for Ecommerce Sites
July 25, 2000
InstantService.com™ Goes Global
InstantService™ Asia-Pacific Opens In Sydney
Worldwide Distribution Network Set
July 19, 2000
M-commerce Initiative Launched by InstantService.com™ and MobileUSA.com™ - Live Interaction for E-commerce Sales and Service Anywhere
May 22, 2000
InstantService.com™ Teams With Island Data to Provide Integrated Solution for Online Customer Response
May 15, 2000
InstantService.com™ Releases Next Generation of Live Online Interaction Technology for Ecommerce Sites
May 3, 2000
InstantService.com™ Announces Strategic Partner Program
April 5, 2000
InstantService.com™ Names Kevin Knoepp as Chief Technology Officer
April 5, 2000
InstantService.com™ Appoints Myril Shaw as Vice President of Sales
April 4, 2000
InstantService™ Live Online Interaction Helps eCommerce Companies Turn Browsers Into Buyers
April 4, 2000
Sessio.com changes name to InstantService.com™ and Launches New Corporate Site
February 24, 2000
Keystroke.com Expands "Live Chat" to Online Lending
January 1, 2000
Depot America Uses Sessio.com for Customer Service Chat, Co-Browsing Capability
Instant Service.com has won several "best of technology" awards. One of which is listed below:
January 1, 2000
The 2000 CRM Excellence Award
TMCnet.com
Martin Rood is married with two daughters and currently resides in Lake Forest Park, Washington.
Contact Information:
Martin S. Rood
15562 Lakeshore Blvd. N.E.
Lake Forest Park, WA 98155
(425) 670 6799, X-1
(206) 713-1304
mrood@MR99.com

Mr. 99 and Associates: Marty Rood | Bob Nylund | Scott Russell | Norman A. Strickland | Jay Leon